Modo de Preparo
It's the middle of May and I'm already all into summer recipe ideas. And summer simply means SIMPLE, REFRESHING, NO BAKE DESSERT RECIPE!!!
I have whole collection of lasagna dessert recipes on my blog. My Lasagna obsession started with Chocolate Lasagna, than I made Pumpkin Lasagna and Key Lime Pie Lasagna. I thought, "I had to make it into a blueberry version" and that's exactly what I did. That's how my White Chocolate Blueberry Lasagna was born. And it is quite amazing, too.
So let me introduce you to this tasty treat.
First layer of this Blueberry White Chocolate Lasagna is mixture of crushed Golden Oreo cookies (check out this recipe for another recipe with this ingredient!) and melted butter pressed into bottom of the pan. It's amazing no-bake crust and perfect base for every mouthwatering dessert.
It's followed by yummy cream cheese, butter and cool whip mixture boosted with blueberries. I had to use frozen blueberries because fresh is still not in season, but I think it would be great with fresh berries.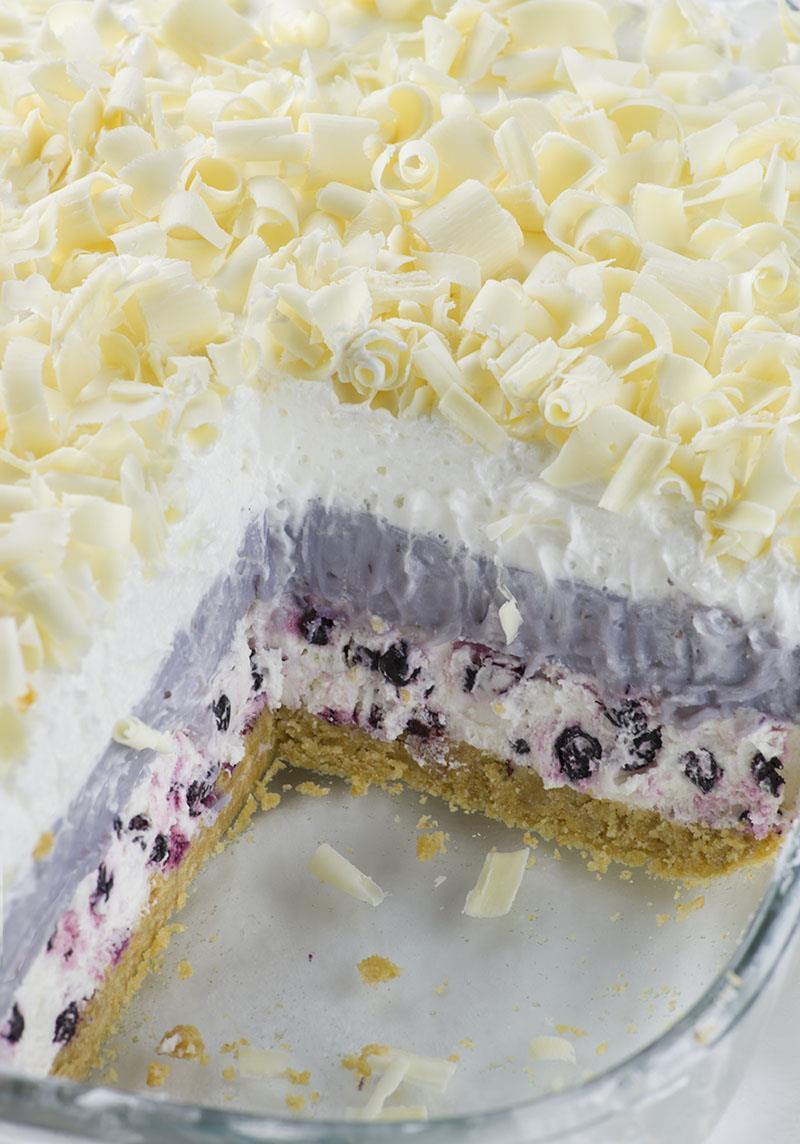 At first I thought to use vanilla flavor for pudding layer, but I decided to go with white chocolate instead , because like I said, everything is better with chocolate!!! I added pulverized freeze dried blueberries into pudding mix to get beautiful purple color and enhance blueberry flavor in my lasagna.
On top is just a simple layer of cool whip, but to make this easy summer dessert a little bit fancy and suitable to show off at any party, I shaved whole block of white chocolate and cover my Blueberry Lasagna with a bunch of crunchy chocolate curls. If you do not have time or patience to make the chocolate curls you can use white chocolate chips instead. It will work just fine as well.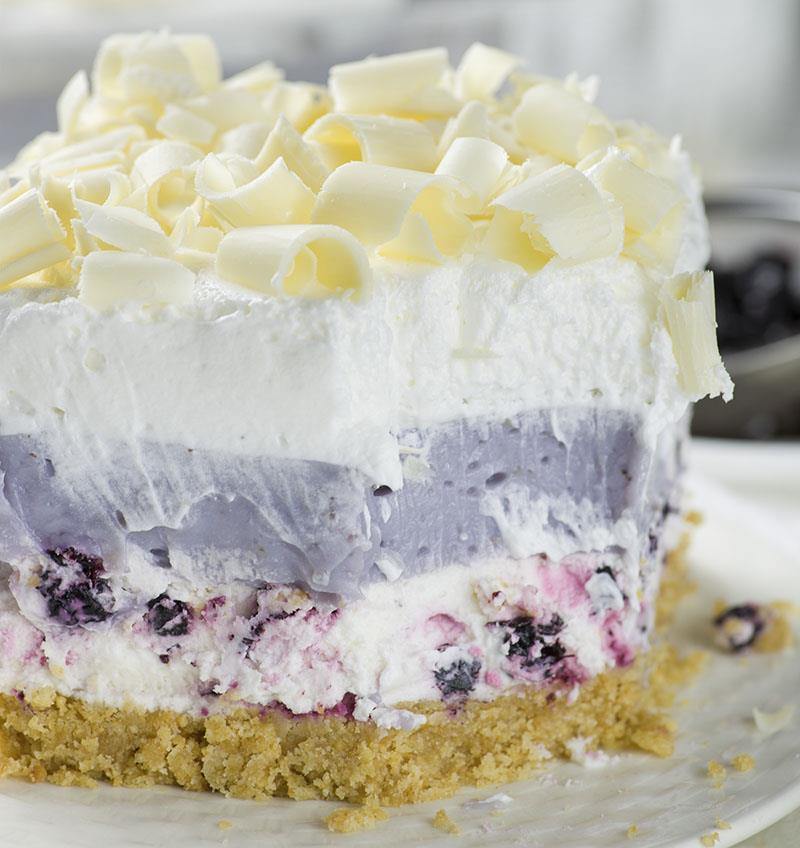 This layered, no bake dessert which I called White Chocolate Blueberry Lasagna is so delicious. I think you'll really like it… especially if you like white chocolate and blueberries! These would be the perfect dessert recipe to try especially when fresh blueberries arrive!
Ingredients
For the Crust:
36 Golden Oreo cookies ( whole cookies with filling )
6 tablespoon unsalted butter-melted
Cream Cheese Layer:
1/2 cup unsalted butter-softened
1 cup powdered sugar
8 oz. cream cheese-softened
1 ¼ cup Cool Whip
1 to 1 ½ cup blueberries fresh or thawed (I used 1 ¼ cup frozen wild blueberries)
For Pudding Layer:
2 – 3.9 ounce packages White Chocolate Instant Pudding
3 cups cold milk
2 oz. freeze dried blueberries- powder (pulse blueberries in a food processor to make the powder)
Topping:
1 ½ cup Cool Whip
white chocolate bar to make the curls (or sprinkle with 1 ½ cups white chocolate chips)
Ingredientes
Ingredients
For the Crust:
36 Golden Oreo cookies ( whole cookies with filling )
6 tablespoon unsalted butter-melted
Cream Cheese Layer:
1/2 cup unsalted butter-softened
1 cup powdered sugar
8 oz. cream cheese-softened
1 ¼ cup Cool Whip
1 to 1 ½ cup blueberries fresh or thawed (I used 1 ¼ cup frozen wild blueberries)
For Pudding Layer:
2 – 3.9 ounce packages White Chocolate Instant Pudding
3 cups cold milk
2 oz. freeze dried blueberries- powder (pulse blueberries in a food processor to make the powder)
Topping:
1 ½ cup Cool Whip
white chocolate bar to make the curls (or sprinkle with 1 ½ cups white chocolate chips)